Electronic dance music, or EDM, isn't for everyone, but it's most certainly for me. I love a good beat and some vocals when I'm writing. When Survios reached out to me to introduce their latest PlayStation VR title, Electronauts, I knew I had to check it out. A VR game that lets you become a DJ and perform live music on surreal stages? Yeah, I'm in.
Having spent more than a few hours remixing, adding, changing, and modifying the game's impressive selection of tracks, it's time to dive in and find out if Electronauts will make you feel like the ultimate DJ, or if this amazing idea just misses the beat.
Becoming One With The Beat
Before I dive into my Electronauts review, I have a story for you fine readers. When I was in high school, this friend of mine had a DVD called Animusic. It was a collection of CGI scenes where insane and impossible instruments would perform really cool and catchy tracks.
At the time we were both in the marching band and considered ourselves burgeoning musicians, so we loved watching these insane vignettes. One, in particular, stuck with me to this day. It was a pair of robots flying on a giant spaceship through the stars. The clip started with them playing a series of notes using drum pads across their torso, but it soon expanded into a whole stage where they played a variety of electronic instruments.
It was a treat for the senses. So, why did I bring this story up? Well, strapping on my PlayStation VR headset and booting up Electronauts for the first time made me feel like I had just stepped onto that cosmic stage, and let me tell you, I had a pretty giant grin on my face when I made that connection.
Electronauts is a musical experience for PlayStation VR that lets you step into one of several different environments that take control of over 40 musical tracks that range across various subgenres of electronic music.
We've got EDM, hip-hop, trap, dubstep, chill tracks, anything you want. You may recognize some of the artists, but unless you listen to a lot of music, you may not immediately notice them. Don't let that fool you, though, because Survios has compiled an excellent spread of musical genres into this experience.
Personally, these were the artists I recognized right off the bat:
The Chainsmokers
ODESZA
ZHU
Steve Aoki
Krewella (One of my favorites)
Tiesto
If those artists jump out at you, you'll find plenty to love in Electronauts, but keep in mind that this is just a small sample of the full list.
Not only that but since the game's launch, they have been adding tracks free of charge! This was particularly surprising for me, as many other games in this genre would charge for additional tracks.
So, beyond some awesome environments, what can you do once you're on the stage? After a solid tutorial, you'll find yourself moving slowly and comfortably through the environment as you stand in space surrounded by three sections. Each of these can be turned into one of several musical tools to create a sort of booth around you that you can use to modify the song, add your own strings, or throw in some effects.
The tutorial isn't very invasive, but it does offer some basic concepts for you to check out before you jump into your own tracks. That being said, it could have been more in-depth. It provides a basic overview of the controls and some of the tools, but it doesn't explain all of them.
When you're actually in a track, you can press a question mark button on one of the three consoles to pull up text boxes that explain the current module you're working with, but I was still a little confused with some of the mechanics when I first started out, particularly how to rearrange the order of tracks and vocals.
Despite some growing pains, I had some truly transcendental moments while playing Electronauts. With the ability to mute specific tracks, add your own, or trigger vocals at specific times, I found myself performing my own personal concert and it was musical bliss.
This is thanks to the fact that Electronauts will very rarely let you mess up. Pretty much everything you do in the game looks and sounds great. I did create one loop that I added in a song early on that got annoying to the point where I had to mute the track, but the vast majority of my additions to the tracks sounded like they could fit with the original music.
Once you hit a groove, Electronauts becomes wholly immersive. I had my musical stations set up with tracks that I could trigger, floating orbs that I could hit to trigger musical notes, and a cube to add effects to the sound.
With this setup, I would use the PlayStation Move controls to record a sweet loop after finding a good rhythm by running through different patterns on the orbs before me. Once the loop was in, I would switch the track, add some vocals, and then perform some effects and transitions to make it all flow.
If that sounds like a dream come true, and you're a fan of electronic music, I cannot recommend Electronauts enough. While it's not billed as "game" per se, more of an experience, you'll probably spend more time in this experience than you would with your typical VR game.
Beyond a more comprehensive tutorial, I think it would have been interesting to let us create our own tracks with more comprehensive tools.
Don't get me wrong, you'll have a lot of fun mixing changing, and making small additions to your favorite songs, but there was always this aching feeling that made me want to take off the chains and make my own music, even if there was a chance it would sound terrible.
That being said, I respect Survios' decision to make the game accessible and easy to jump into. This is the closest you can get to having a music festival in your living room, and that's a major accomplishment in and of itself.
Vibrant and Beautiful Presentation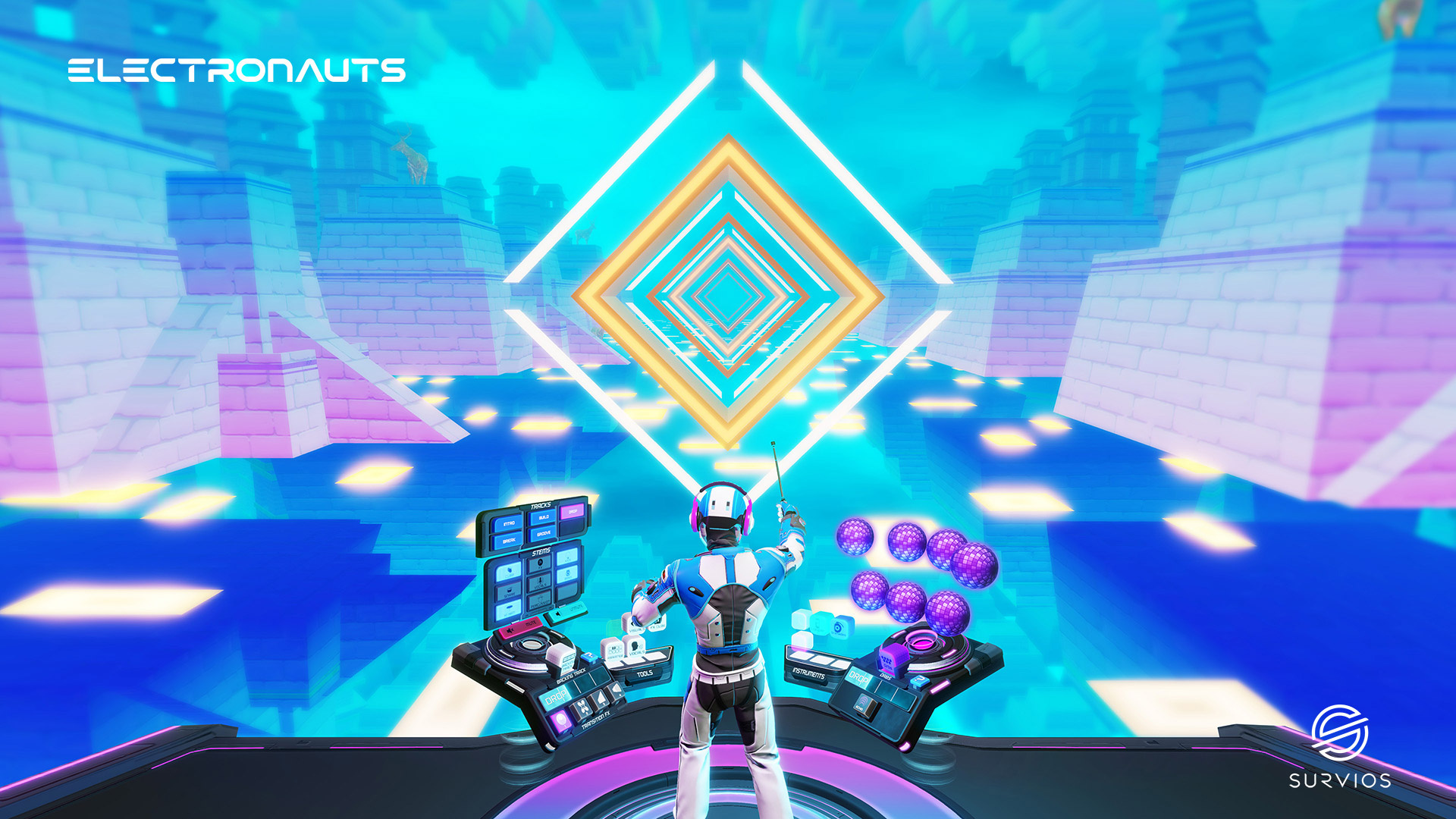 Electronauts has crisp visuals on PS4 Pro, a stellar soundtrack, precise PlayStation Move controls, and one of the most unique experiences on the platform. In striving for simplicity and making music possible for everyone, the game leaves some of the more advanced options off the table, and that's okay.
The tutorial could be more inclusive in teaching you all of the features in my opinion but beyond these mild qualms, the overall experience is absolutely stellar.
If you've read many of my reviews, then you know I'm a big fan of Survios and the work they do in the VR landscape. From Raw Data to Sprint Vector, to Electronauts, this studio has proven time and time again that they can take just about any idea and create a polished, beautiful, and immersive experience in VR with it.
Strap on your headsets my friends, it's time to make some music.
Final Score: 8.5/10
A copy of Electronauts was provided to PS4 Experts for review purposes
Article by - Bradley Ramsey
Insert date - 8/17/18
Recent Reviews: