When you took your PS4 out of the box, you were probably the happiest gamer on Earth. I knew I was, but there was something looming in the back of my mind. I knew that that the beautiful machine in front of me only had 500 gigabytes of hard drive space.
Fast forward until now and there's absolutely no way I could install all of my games at once, they are just too massive! I'm sure you've run into the same situation so let's get that fixed. I'm here to show you the best replacement hard drives for the PS4 and how to install them yourself!
The Top 5 Hard Drives for PS4
Moving right along, it's time to find out which hard drives over going to give you more than just space. These drives are bigger, better, faster, and stronger. They install, load, and start games faster than the standard. Let's dive right in.


Our first hard drive comes in at an even $100 and features a solid 6GB/s speed with a 128B cache. There's a lack of data encryption, but you don't really need that with the PS4.
As a tradeoff, you get a faster drive that sports a 5400RMP spindle speed. Considering the highest you can get is 1TB with the PS4 Pro, this will at least double your potential space.
Another extremely well reviewed hard drive graces us with its presence. At a reasonable price and packing some serious speed, this is a great choice for a solid (pun intended) upgrade.
1 TB 5400 RPM 2.5" solid state hybrid OEM drive

Utilizes Seagate flash management technology to deliver SSD-like performance

Integrates NAND flash with traditional hard drive storage

9.5mm design for maximum capacity laptops

Transfer kit not included
For increased speed and better installation times, and SSD drive is the way to go. That being said, they are more expensive than your standard drive, hence the price on this one.
If you want the best option, however, this is the way to go for reliability and performance. You'll get 6GB/s speeds, and you'll have up 560 MB/s read and 460 MB/s write speeds.
If you're the kind of person who likes everything in one easy package (who doesn't?) then this is the perfect option for you. This convenient bundle comes with a 2.5 inch Seagate 2TB hard drive, and all of the other accessories you'll need to switch out the drive:
Includes a 2TB 2.5 inch Seagate/Samsung HDD, OWC Express USB 3.0 8GB Flash drive (for backing up saved data), and a screwdriver!

Everything you need to backup your save data and switch out the drive is included

You can convert the 500GB drive from the PS4 into a external device for use with any PC.
We top off our list with a solid state drive that comes with a high pedigree in terms of security. The M500 which comes in a 960GB option for about $300, but the speeds more than make up for the price tag. Not to mention, Crucial is known for their top-notch encryption technology, making this the safest option out there.
Dramatically faster speeds than other hard drives.

Boot times are almost instantaneous.

500 MB/s speed with 400 MB/s sequential writing.

Multiple storage size options.

Top-level hardware encryption technology to keep your information safe.
PS4 External Hard Drive Support
The 4.50 firmware update for PS4 brought with it some exciting features, one of which is the ability to use an external hard drive with a USB 3.0 connection.
I'm not talking about music or media, I'm talking about a fully functional external drive, up to 8TB in size! Once you connect it, you can download and install games on it and access them on your home screen as if the drive was inside the console.
Your saved data will still be on the console, but you can access your games from the external, no problem. Here's what it will look like on your PS4's settings:
Now that the update is here, check out our picks for the best external hard drives to use on your PS4 or PS4 Pro!
This 5TB option is a little pricey, but it can seriously expand your hard drive space. Personally, I would go for something like this because I've built up quite the collection since the launch of the PS4.
You'll need to account for the power adapter, but otherwise, this one should work flawlessly when that new update comes out.
This 2TB option comes in at under $100 and gives you an extra chunk of space to work with. It also has up to 5 GB/s data transfer speeds, which will help with game streaming. Can't go wrong with that!
This is a great, no-frills ways to expand your hard drive space by 1TB. At just over $50, it's a bargain compared to most other options out there.
While not a huge jump in space, this external does offer you the opportunity to gain both space and speed. The incredible read/write speeds that SSD drives offer easily outweighs the cost. It does come in higher sizes as well.
What if money IS an object?
When is it not, am I right? Well, if you're looking to get more space for the same amount, or possibly less, then I have a solution for you my friends. It's called the Nyko Databank. Here's the kicker, it's not a hard drive.
So why then are you recommending it Bradley? Good question reader, it's actually a device that let's you insert a larger type of hard drive into your PS4. Yes, you will need to buy an extra piece, but the ability to use 3.5-inch hard drives allows you to spend the same amount, or less, and get a lot more space.
It fits over the top of the system's casing so it's not the most elegant option, but it does offer you the option to get up to 6TB of storage without breaking the bank. It sounds great on paper, but the reviews and opinions I've come across in my research kind of go back and forth on it. While many people say it works good, others say it runs very hot and can lower the lifespan of the system.
That being said, not everyone has had that issue, so it could be a user error. Overall the general consensus is that the bank works, but it can add extra seconds to your load times.
Assuming I have a Hard Drive, How do I Install it?
I'm going to cover both the video and text versions of this process because I love you guys and gals for reading this. Below is a video walk-through for your convenience.
If you have a PS4 Pro, the process is pretty similar. If you'd like to check out a video guide specific to the new console, we have it below!
If you'd rather have a text-based guide, stick around because it all starts...wait for it...NOW!
Materials You will need to upgrade your PS4 Hard Drive:
Phillips head screwdriver (small)
A computer with access to the internet
A USB Flash Drive (1GB minimum in size)
Your handy 2.5 inch shiny new internal hard drive (9.5mm or slimmer)
Your PS4 (sorry, I had to)
The PS4 Pro Difference
If you're a PS4 Pro owner, you can still switch out your hard drive just like you can with the standard PS4. There are only a few small differences.
For the PS4 Pro, you'll find a plastic panel on the back of the system, next to the ports. This panel has a small tab that pops it off. There's a large screw here that you'll need to take out.
Once you've done this, the hard drive caddy will slide out for you. From here, you can unscrew the four screws on the caddy to release the hard drive.
From there, it's pretty similar to the standard PS4. You'll just need to swap out the hard drive and install the latest firmware to finish things up. If you've never installed a hard drive before, check out the step-by-step guide below.
Whether you're changing out the internal drive or hooking up an external one, there are plenty of options for boosting your space so you can have all those sweet games installed!
Step One: "Download The Latest PS4 Firmware"
Image via Attack of the Fanboy
Head over to the official PlayStation website (nothing fake, the real deal) and download the latest software update available. You need to download the file intended for a full install, not an update. It should be listed as "perform a new installation of the System Software."
Don't worry though, as long as your on the official PlayStation website, even if you mess up the download, the system will tell you later on and you'll have an opportunity to fix it. You'll know it's the right one if it's around 1GB in size, so make sure your USB can fit it.
Make sure the USB drive also fits in your PS4 without any issues, and that it's formatted to FAT or FAT32 which may sound complicated, but it's really not. You just need to right-click it and select format on your computer, then choose one of those two types. (This will erase the content on there, keep that in mind)
Next, create a folder called "PS4" in all caps and make another folder inside of it called "UPDATE" also all in capital letters. Download the PS4 update into that second folder and eject the USB from the computer.
Before we move into the second phase, make sure you back up your saved data and clear out the old hard drive if you're thinking about reselling it. You can do this by exporting the saved data to that same USB Flash Drive, or you can upload the data to the cloud if your a PlayStation Plus user.
Step Two: The Hard(Ware) Part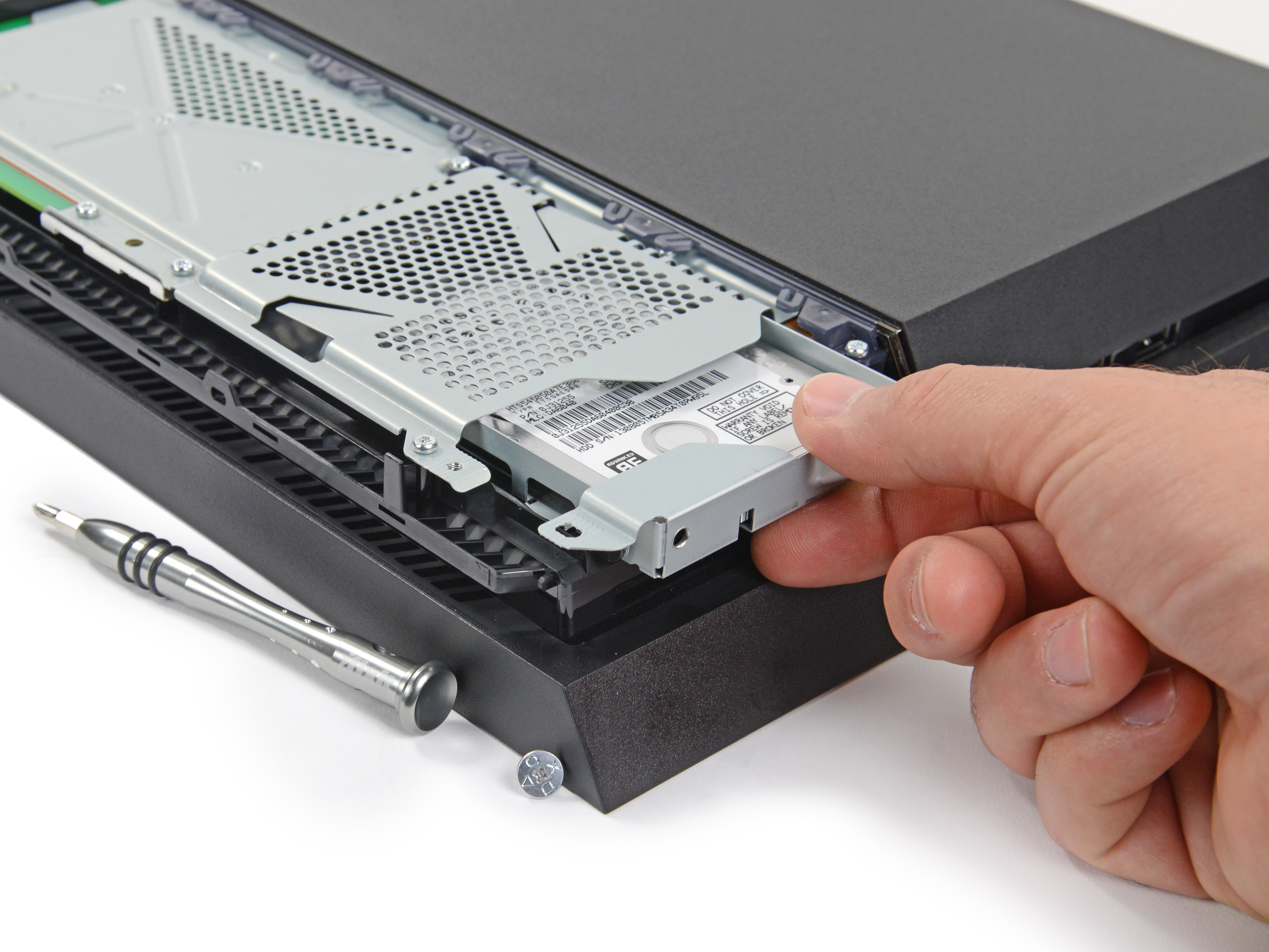 This second half of the process isn't too difficult. Here's a step-by-step breakdown:
Make sure the system is fully off and unplugged. Place it on a flat surface.
Push down on the left side of the case and slide it outward to reveal the hard drive within. It's not on roller so it will just slide right off.
Locate the screw with the PlayStation buttons on them (they should be Phillips head screw) Remove it.
Tug the hard drive free by pulling it out. It should slide easily
Remove four screws from the hard drive casing (two on each side) and kep them safe with the PlayStation one
Take out the old hard drive and put the new one in. Line up the holes and put the four screws back in place.
Insert the full casing back into the PS4 and screw in the PlayStation screw
Plug it back in
Step Three: The Final Stretch
Okay, now the final part. Plug your USB Flash Drive and a charge cable into the front of the system. Plug your controller into the charge cable. Hold down the PS4's power button (the stupid tiny one the front of the system. It's the top one.) to put the system into safe mode.
Turn on the controller and select the option to "Initialize PS4 (Reinstall System Software)." If you hit an error, it's probably because of what I mentioned earlier about needing a full install of firmware and not an upgrade. It could also be the folders not being right.
Once the install is finished you can sign into your PSN account and register your Wi-Fi and all that fun stuff to finish the initialization. If you backed up your saved data on the Flash Drive, you can go into the "Application Saved Data Management" and select the USB or the Cloud to restore them.
To re-download any games or apps, head to your "Library" and you'll find them all waiting for you.
Looking to expand the storage space on your PS4? Look no further because we've got our top hard drive picks, and a detailed step-by-step guide to installing them!

Posted by PS4Experts on Monday, September 7, 2015
That's all there is to it folks! Have any questions about upgrading your hard drive? Post them below! Thanks as always for reading and be sure to tell me about your PS4 upgrading experiences and thoughts in the comments.
Article by - Bradley Ramsey
Check Out These Other Articles!