PS Plus has been around since 2012 and as an early adopter of the premium service, I can say it's had ups and downs. While we can't expect to get what we want each month, Playstation is planning on giving us a little more choice in the matter.
Thanks to a video leak in the "what's new" section of the PS4 earlier this week, we learned Sony is bringing a new feature to PS Plus. It seems that Plus subscribers will be able to vote on 1 of 3 games and receive the game with the most votes as their free title the following month. The other two titles will be placed at a discounted price. While there was no explanation as to how this will affect the current Plus setup or start date, it's an interesting concept that should prove to be a nice addition to the service.
If you haven't heard yet, Sony announced its sales for the end of June, 2015. At an astonishing 25.3 million consoles sold, the PS4 has surpassed more than 50% of any other console in history when compared to the amount of units sold within the same timeframe. It should come as no surprise considering the Gaming is one of the fastest growing industries on the planet right now.
Sony has put a lot of effort into bringing Gamer's what they want from all different areas and it's clearly paying off. While there is still a lack in exclusive first party titles, we've seen some great third party exclusives and watched as Sony as grabs as many dlc and marketing deals as possible. Some may say its slow going, but from the sales point of view it's going at the right pace.
Die Hard fans of Bloodborne will either be excited or rather upset depending on how they view it. Japanese company Gecco is delivering a 12.5 inch tall statue of our beloved Hunter from the box art of BloodBorne. It is an excellent replica and made of high quality expected to release in the U.S. in December 2015, with another version dropping in February 2016, that features a puddle of blood.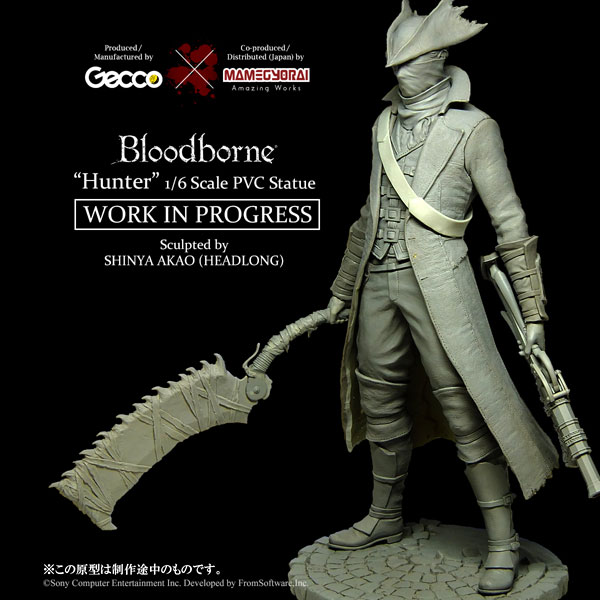 While it should seem obvious that's the part fans should be excited for, they may not be too thrilled to hear the price. Coming in at $300.00 USD, this replica is definitely being made with only collectors in mind. I personally enjoy collecting limited items myself, but I can't see myself spending that much for the single piece. Either way it's up to you how you spend that hard earned money of yours.
In other news, Playstation's UK division has had a little shaking up, but not necessarily in a bad way. Sony's UK Vice President and Managing Director has resigned from his post to pursue a new venture. Fergal Gara had been in leadership for SCEA UK for 4 years and played a prominent role in the consoles sales force in the region. With sales holding such a strong stake in the industry, its interesting to hear this news and really makes me wonder what this new venture is. Either way we wish him the best of luck in all his endeavors.
The PS Plus line up for August has announced and it's got some good titles in this drop. You'll receive Lara Croft and The Temple Of Osiris the co-op or solo puzzle game that is all about the hunt, the treasure hunt that is! Followed by the critically-acclaimed title Limbo, a fun and kind of spooky title that many Gamer's came to love. Except for the spiders, there is no love for the spiders here. You will also be treated to Stealth Inc. 2: A clone in the dark and Sound Shapes. These titles will be available on August 4th, so if you haven't had a chance to at least save July's games in your library, its best to do it soon before they are gone.
That should get you up to speed with any tidbits you may have missed this week, throughout the month of August we'll update you with our latest info on Fallout 4 and don't forget the Black Ops 3 beta begins August 19th for PS4 users and we'll be bringing footage as well as live streams so long as it's permitted by Activision. Thanks for reading and be sure to leave your feedback on all your thoughts on Playstation!