Escape the room games have become an ongoing trend in VR, and for good reason. They don't require a lot of assets, and they're a relatively low budget. If you pull them off correctly, though, they can be truly amazing experiences.
The Rabbit Hole is one such game, placing you in a room with several puzzles to solve before you can escape. Does it offer chills and thrills, or is this hole a little too shallow?
An Interesting Premise That Lacks Any Concrete Story
The Rabbit Hole has a kind of Alice in Wonderland feel to it, but the game doesn't have any story to back up the setting. You'll find things like playing cards, and hear some pretty scary sounds, but you'll never know where they came from or why.
The entirety of the game takes place in a single room, but the main menu does offer a different setting in a dark forest. The only real premise you have is the drive to solve puzzles and escape the room.
Without any narrative to provide motivation. The Rabbit Hole seems like a missed opportunity to tell a darker version of Alice in Wonderland. Some narration, text notes, or even just a proper intro could have given us more of a reason to get invested in this world.
Cumbersome Controls Mix With Inconsistent Puzzle Design
The Rabbit Hole can be played with a DualShock 4, a single Move controller, or two Move controllers.
There are options for teleportation or smooth movement, but I wouldn't recommend the smooth movement option. It's not that it causes motion sickness (it doesn't), it's because the controls are very confusing and cumbersome.
Navigating the room is much easier if you opt for teleportation, so I would recommend this method of movement (on by default). The puzzles themselves are pretty easy to spot in the environment as well.
Some escape the room puzzlers find unique ways to organically integrate puzzles into the environment, but The Rabbit Hole places the puzzles in plain sight.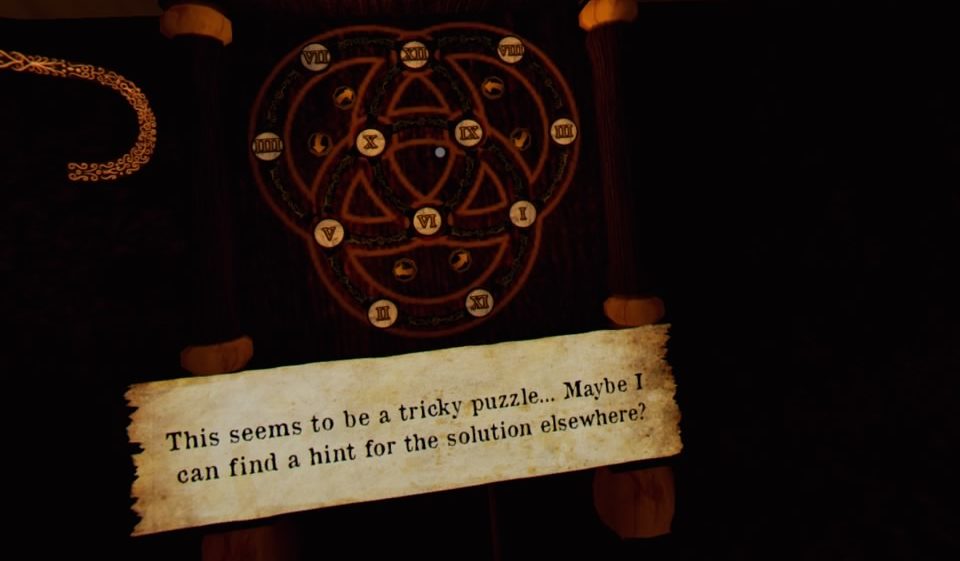 For the most part, they are pretty easy to figure out, but one puzzle is going to give people a lot of trouble. To solve some of the problems, you'll also need to use items you find in the environment.
A potion allows you to shrink, while a piece of cake makes you grow bigger. These items are crucial to finishing the puzzles, but they are only in limited supply.
Furthermore, the game doesn't tell you when you've run out of them, so you may spend time searching for an item that doesn't exist, only to find out you need to restart.
Couple all of this with a time limit and things can be frustrating. After a certain amount of time, you'll also get a game over. With one puzzle offering a massive spike in difficulty, many players will probably have to start over at least once.
The Rabbit Hole doesn't last long, probably about an hour or so for most people, but the price is right at $4.99. If you opt for the teleportation controls and you don't mind the difficulty spike, it's not a bad little puzzler, but it has plenty of issues that can quickly pile up for someone who doesn't have the patience for them.
It's So Dark!
The presentation in The Rabbit Hole is pretty good in VR, but there's an issue I had: brightness. The game allows you to turn up the brightness in the options, but even at the maximum level, the game is just too dark.
This makes it hard to navigate the environment and turning the brightness up further with the system settings just washes everything out.
Ultimately, The Rabbit Hole is an escape the room puzzler with some decent horror elements and an intriguing premise, but it lacks any story to make it compelling. The puzzles, while interesting, are few and one of them is a huge spike in difficulty.
For $5 it's worth looking into if you want another escape the room game, but the issues it does have to keep it from being a must-have title.
Final Score: 6.0/10
A copy of The Rabbit Hole was provided to PS4 Experts for review purposes. PS4 version was tested with PlayStation VR on PS4 Pro.
Article by - Bradley Ramsey
Insert date - 1/27/18
Related Articles: