When Sony gave PlayStation VR a social screen for other players to watch on the TV, they intended it to be used as a way to bring other people into the experience. Several games have made excellent use of the social screen, but now VR The Diner Duo is here to take the throne.
With a full cooking game experience in solo and cooperative play, does VR The Diner Duo cook up a satisfying VR experience, or should these ides have spent more time in the oven?
Cooking For Robots
In VR The Diner Duo you are a robot chef tasked with making food for hungry robotic customers who come into your restaurant. In PlayStation VR, you'll have a full cooking station surrounding you.
As you cook, cut, and prepare ingredients, your servers will bring the food out to the customers. Your score will depend on how quickly you serve each of them.
With a large number of levels and several themes/food types, VR The Diner Duo has a lot going for it. Where the game truly distinguishes itself, however, is in the multiplayer.
Making full use of the social screen, a second player can pick up a Dualshock 4 and play using the television screen. As the VR player prepares food, the other player must pick up orders and deliver them to customers.
The second player will also be responsible for handling drink orders. Since these are robots, the "drinks" involve things like oil and antifreeze, which are funny details you'll notice if you read the soda labels.
Sounds like the perfect cooperative cooking experience. Let's find out how the gameplay stacks up.
The Devil's Food Cake is in The Details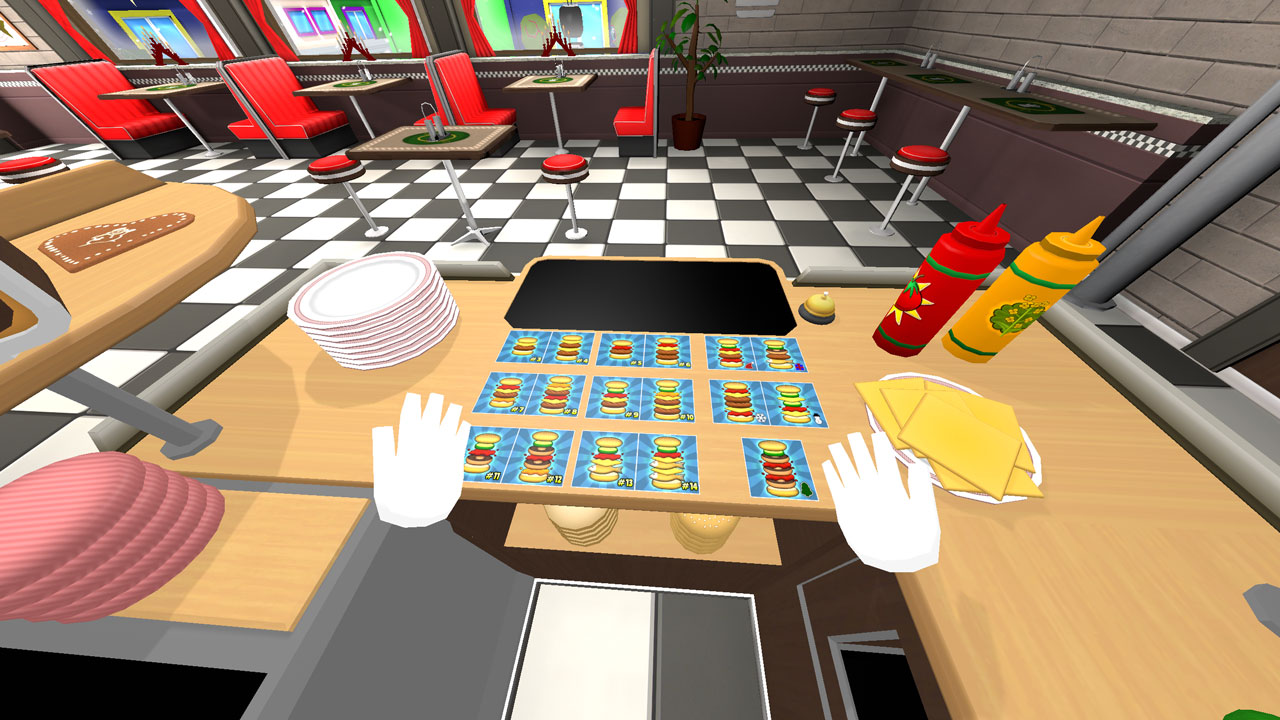 VR The Diner Duo takes a simple idea and develops it into a fun cooperative experience. With several different themes and a wide selection of levels, there's plenty of content to choose from.
When you first enter your cooking area in VR, you'll find several options to your right that allows you to adjust the scale and height of the area around you. This detailed option for calibration is very welcome and allows you to get into a comfortable position where tracking will be reliable.
The first several levels will feel very easy for veteran players, but the challenge will come swiftly. Recipes start simple with only a few ingredients, but soon the orders start adding different layers and multiple ingredients.
Your score will be dependent on how quickly you serve customers as well. If they have to wait too long, they'll pay less or leave entirely.As more customers come in, you'll find yourself juggling orders in no time.
PlayStation Move controllers are used to pick up and manipulate ingredients. In some cases, you'll need to cut or chop, but in most cases, this involves cooking things without burning them and combining ingredients properly.
Tracking worked perfectly during my experience, especially with the options to change your play area. While it can be fun to cook food in VR, the cooperative multiplayer is my reason for recommending this title.
As a second player on the social screen, I ran around the restaurant making drinks and delivering orders. This was the best way to play because it allowed me to call out orders to the player inside of VR.
Things got hectic fast, and even serving dessert in a different theme proved to be an exhilarating gameplay loop once you finish the first couple levels.
In between your bouts of cooking, you can also change between three music tracks and customize your characters. More variety in the ingredients and more responsibilities for the second player could have elevated the experience further with more detail.
Thankfully, there's enough content here to easily justify the price. This is especially true when you consider the cooperative multiplayer, which I highly recommend playing.
Simple Graphics That are Sharp in VR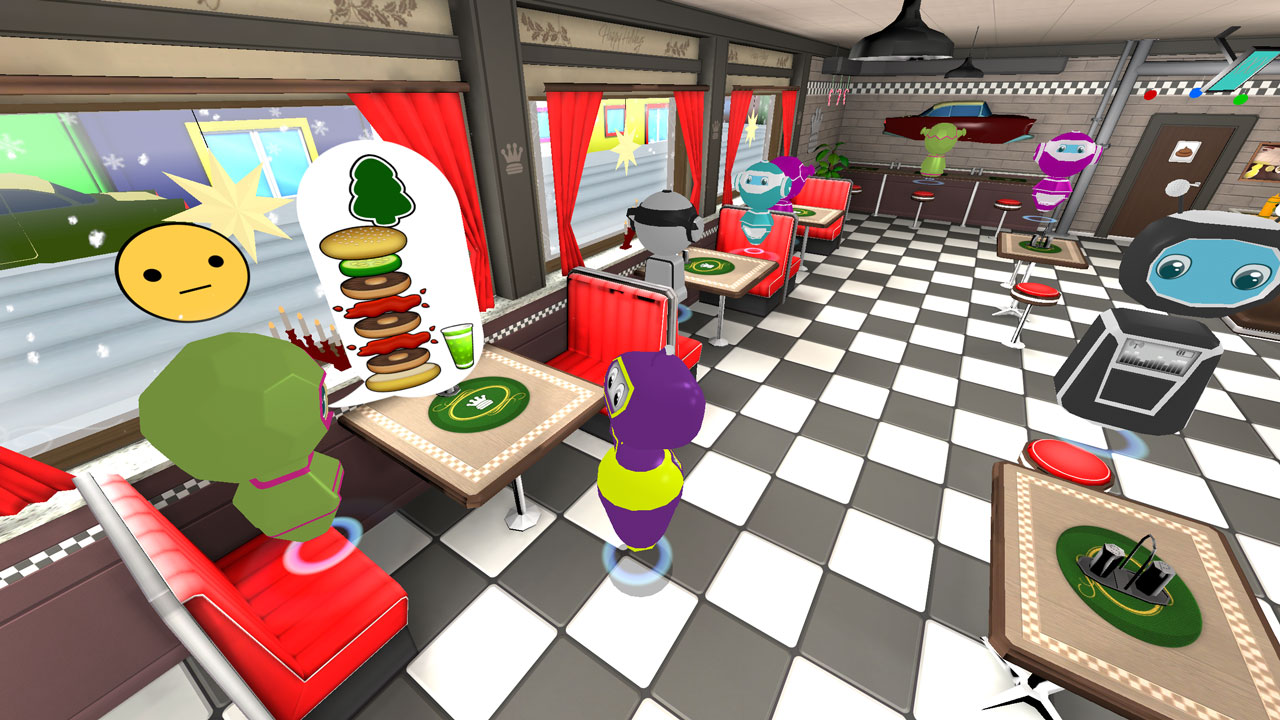 VR The Diner Duo takes the smart route when it comes to graphics and stays simple to improve the resolution. With bright colors and relatively simple shapes, the game conveys everything it needs to while still looking exceptionally clear in VR.
This also equivalates to a smooth framerate and a polished experience overall. While it may not have as much depth as it could have, there's plenty here to keep you busy and an excellent multiplayer mode for those who want to bring a second player.
Final Score: 8.0/10
A copy of VR The Diner Duo was provided to PS4 Experts for review purposes
Article by - Bradley Ramsey
Insert date - 2/16/18
Related Articles: